"Witty, inventive enchantment… the most innovative, best new musical since 'Hamilton!'" – The New York Times
Step into a mesmerizing world of passion, love and intrigue set in the salons and opera houses of aristocratic Moscow. Natasha, Pierre and the Great Comet of 1812, the Broadway musical nominated for 12 Tony Awards, is playing at the Horizon Theatre through November 26.
The show, with book, music and lyrics by Dave Malloy, is a musical adaptation inspired by a scandalous slice of Tolstoy's 1869 novel, War & Peace. It is a theatrical experience like no other, bringing you just inches from the brash young lovers as they light up Moscow in a "heaven-sent fireball" (NY Times). With a thrilling immersive staging that swirls around the audience and the onstage bar, audiences are transported to a glamorous land of chandeliers and vodka — where passions ignite.
Natasha is a beautiful young girl visiting Moscow while she waits for her beloved fiancé Andrey to return from the war. In a moment of indiscretion, she is seduced by the dashing (but already married) Anatole and her position in society is ruined. Her only hope lies with Pierre, the lonely outsider whose love and compassion for Natasha may be the key to her redemption— and to the renewal of her soul.
DISCLAIMER: I was pleased to attend the press opening last Friday night. I received no other compensation and the opinions expressed are my own.
The Horizon Theatre is always a joy to attend. This is an intimate space with around 175 seats providing a great view no matter where you sit. The unusual multi-level staging of Natasha, Pierre and the Great Comet of 1812 places you in the middle of the action... making you feel as though you are a part of the story. Filled with luscious period costumes featuring rich brocades, tiaras and lots of fur, you are transported back in time to tsarist Russia. At times, the music is so heart-wrenching that tears spring to your eyes, but at others, it makes you want to grab a bottle of vodka, and join in the riotous Russian folk dancing all around you. Tolstoy's plot wrings every emotion from you. You will laugh at the opening parody introducing all the players, you will be touched by the tender, innocent love between Natasha (Alexandria Joy)and her fiancé, Andrey (Hayden Rowe). Anatole (Jordan Patrick), the wildly attractive young aristocrat who seduces Natasha while Andrey is away at war will arouse your passion, but it will quickly turn to outrage when it is revealed that he is married. And your heart will break for Natasha when she realizes that she has foolishly ruined her future, as well as her reputation. But then, just when you think all is lost, the comet appears in the sky foretelling the hope of an unexpected future.
Natasha, Pierre and the Great Comet of 1812 is truly a feast for the senses. This cast is incredibly talented, with not only gorgeous voices, but also the ability to play instruments and dance, usually all at the same time! I am still amazed that no one fell down as they wildly danced or ran from one stage to the next.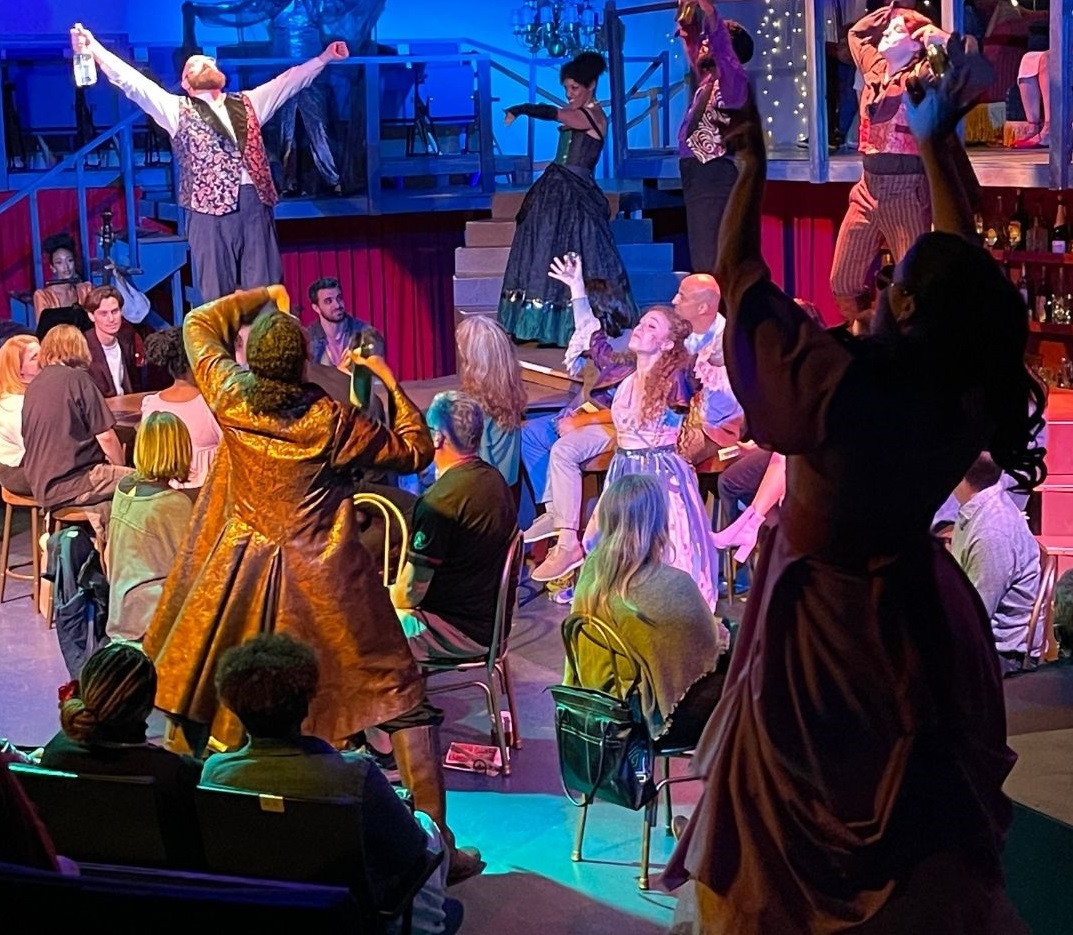 Mixing pop, soul, folk and electronic dance music with classic Broadway, this innovative musical brings to life the heart of this epic tale of love and fate. "Natasha, Pierre and the Great Comet of 1812 is a unique, electric and immersive experience that audiences won't want to miss," says director and Horizon Artistic Associate Heidi McKerley. "We are transforming the theatre into a multi-leveled supper club with an onstage bar, a few choice tables and a balcony area with cozy couches and chairs in addition to regular theatre seating. The cast performs on every level, right next to audience members, with the top of the bar as a central playing area. Our outstanding multi-talented cast are also the show's musicians, playing cello, violin, bass, accordion, clarinet, piano, guitar and more."
"The musical's fusion of classic and contemporary in the music, characters, costumes, and staging are the pre-cursor to Hamilton in style, and remind us that some human truths are universal no matter the time or place," McKerley continued. "We are bursting with excitement to bring this award-winning musical to life in Atlanta in the intimate Horizon space. You'll be up close to life-changing love affairs, souls turned inside out, existential crises and high-stakes risks. You can't get what we will be offering on any screen you own."
Although not suitable for kids, this would be a memorable date night or evening with your teen event! When asked why the comet made it into the title of the show, Malloy stated, "for cosmic epicness." I couldn't agree more. "Natasha, Pierre and the Great Comet of 1812 is an immersive, unique, and totally epic experience. If you enjoy musical theatre, you do not want to miss this show! I absolutely loved it!!
Other key players are Natasha's cousin, Sonya (Anna Dvorak), her godmother Marya (Terry Burrell), Andrey's good friend Pierre (Daniel Burns), who is unhappily married to Hélène (Janine Ayn) who married him for his money, Anatole's friend, Dolokhov (Terrence J. Smith), Andrey's father,The Prince (Jeff McKerley) and his sister Mary (Kendra Johnson), and Balaga (Skyler Brown), the fun-loving and wild troika driver. Rounding out the cast, the ensemble members include Alyssa Easterly (guitar, piano), Miro Gomez (cello), Ruth Mehari (cello, bass), Eric Nabeth (accordion, piano), Eden Mew(percussion), Marissa Romanoff (viola) and Molly Ann Tucker (clarinet).
Director and Horizon Artistic Associate Heidi McKerley is back with another intimate and amazing immersive musical experience. Heidi has directed most of Horizon's musicals over the past three decades to great acclaim. She is joined by Holt McCarley as music director and on keyboard/effects for the show. McKerley's design team creating the intimate supper club and salon environment includes Horizon resident scenic designers Moriah and Isabel Curley-Clay, resident lighting designer Mary Parker and long-time Horizon designer Dr. L. Nyrobi Moss – all of whom were just nominated for Suzi Awards for last season's Designing Women 2020 at Horizon, which was directed by McKerley and is also nominated for Best Play. Sound design is created by Tyehimba Shabazz and Chris Lane of Multiband Studios, and props are sourced by Leah Thomas.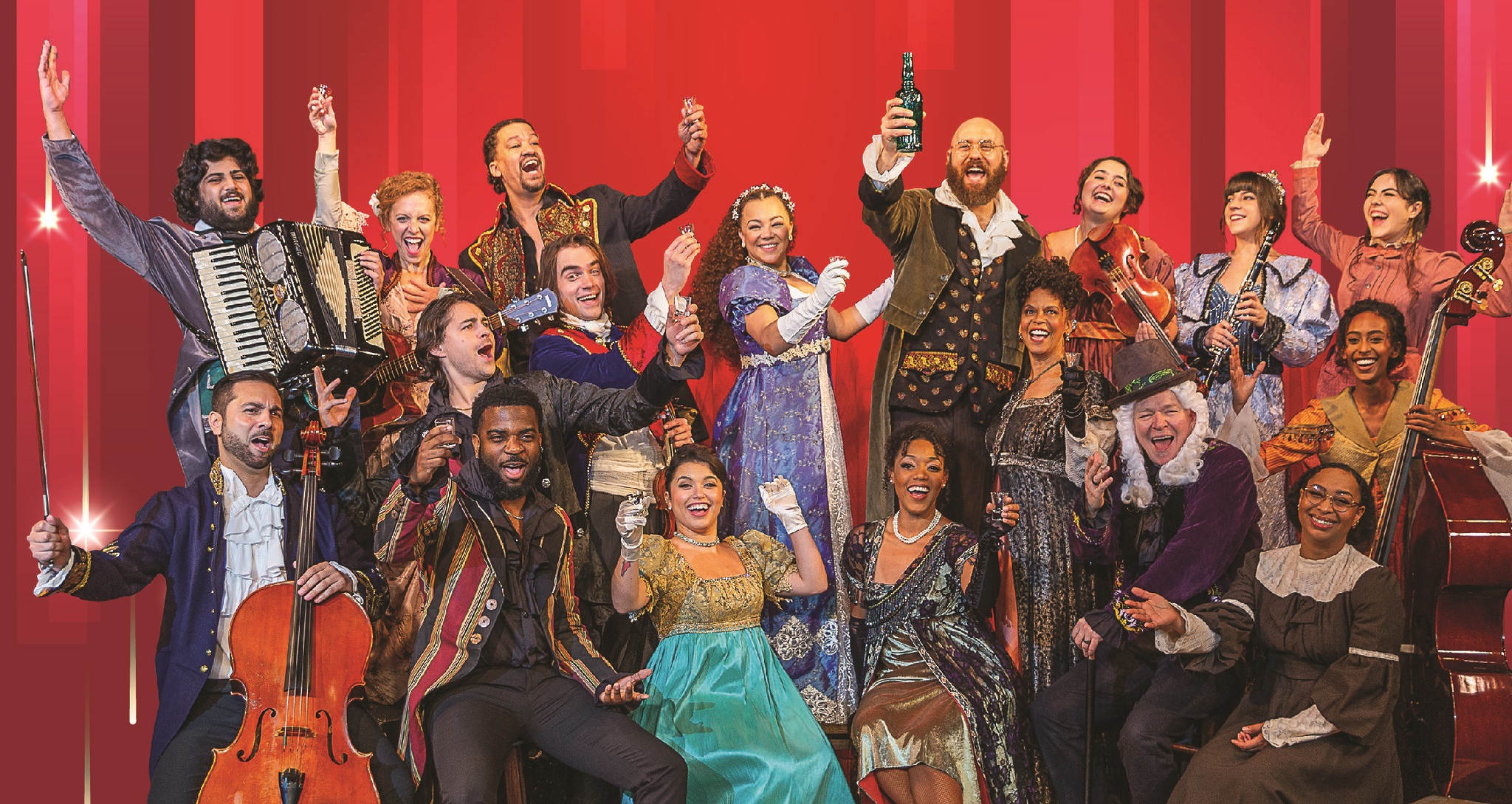 PERFORMANCES through Nov 26:
Wednesday, Thursday and Friday at 8 p.m.
Saturday at 3 p.m. and 8 p.m.
Sunday at 5 p.m.
There is an additional matinee on Friday, Nov. 24 at 3 p.m.
NOTE: There will be no performances on Thanksgiving Day.
TICKETS: The show runs 2 1/2 hours including a 15-minute intermission.
Starting at $40 on weekdays and $45 on weekends (plus sales taxes and fee), with limited seats available at the bar, tables and couches. Three tables for two are available at each show for $150. Prices are subject to change and prices rise as performances fill up, so patrons are encouraged to order early for the best prices and availability.
Students under 25 can get $5 off tickets with valid student ID by calling the box office or purchase $20 Student Rush Tickets thirty minutes before show time if seats are available. Single ticket seating is general admission, with a reserved seating section for season subscribers. There is limited accessible seating for those needing mobility accommodations, and it must be reserved by phone.
Content Advisory – Recommended for 13 and up. References to drinking, infidelity, and sex. Parents should read the detailed synopsis below to understand the content more specifically or call the box office with questions.
LOCATION:
Horizon Theater Company
1083 Austin Ave NE, Atlanta GA 30307 (at the corner of Euclid and Austin Avenues)
NOTE: the entry is in the back of the building which also provides parking.
For tickets and more information, visit horizontheatre.com or call the Box Office at 404.584.7450.