We wanted to take a moment to give a HUGE welcome to our brand-new Hulafrog subscribers!
As you may have heard, Hulafrog recently joined up with Macaroni KID.
Starting this week, Hulafrog subscribers will now receive a local Macaroni KID newsletter instead of their local Hulafrog newsletter.
We're so thrilled to make the transition with you from Hulafrog to Macaroni KID and hope you find that Macaroni KID becomes the No. 1 place you turn to when trying to answer the question:
What are we going to do today?!?
What to expect from Macaroni KID
Each week Macaroni KID will deliver a local newsletter right to you, sharing all the best events, activities, and happenings right here in our community, along with a dose of parenting news, crafts, holiday happiness, and other local family fun.
The best part: There's no cost to you for this service. Our newsletter, like our website, is ALWAYS free, thanks to the support of our local businesses.
---
Not sure if you're a subscriber? No problem!
Sign up here to get our FREE weekly newsletter delivered directly to you!
---
If you're brand new to Macaroni KID (or need a refresher!) and visiting our site for the first time, here are six ways you can use our site to find your local family fun:
1. A FREE calendar of local kid- and family-friendly events
You will find a list called Today's Events at the top of our front page for today's family fun. Want to plan ahead? Simply visit our full events calendar to see our BIG list of upcoming fun!
Calendar Bonus: Simply click on one of these buttons, found at the bottom of each event, to add the event right to your personal calendar:
---
2. Features and reviews of local family fun
We love highlighting local businesses, organizations, and more on our site! Click around and you may find information about local parks, restaurants where kids eat free (or cheap!), our favorite summer camps and much more! We even host the occasional giveaway or contest. Keep an eye out!
---
We're always working on something new, so if you have an idea for a local feature article or guide or would like your business featured, let us know at beckys@macaronikid.com
You can also submit an event to our calendar anytime!
---
3. Support our Macaroni KID sponsors
Macaroni KID is all completely FREE to you! How is that possible? Our LOCALLY-OWNED business sponsors are what makes it possible for us to offer Macaroni KID as a FREE community resource. Please click on their ads and links to support them and try to shop locally when possible. They are such an important part of our community.
Please also let them know Macaroni KID sent you!
---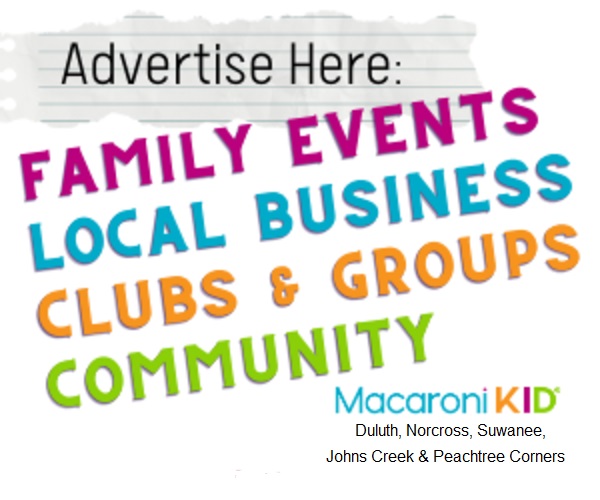 4. Become a Macaroni KID sponsor
Are you a locally-owned business or do you work for one? If your targeted market is families with school-aged children in Duluth, Norcross, Suwanee, Johns Creek and Peachtree Corners, there is no better way to promote your business to them than though Macaroni KID.
---
Contact me at beckys@macaronikid.com for information on becoming a Macaroni KID sponsor.
---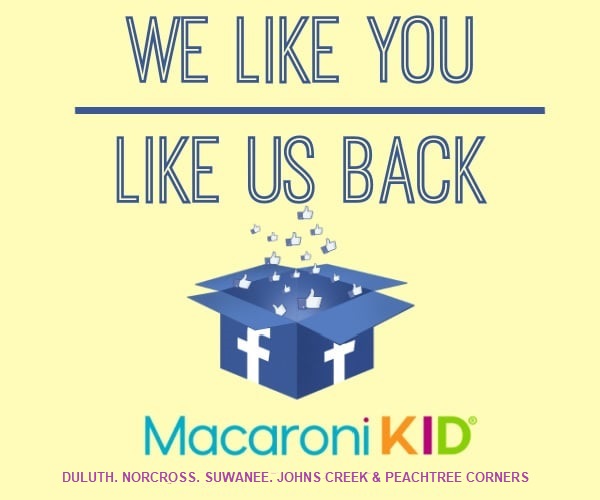 5. Find us on social media!
Facebook | Instagram | Twitter
---
6. Please share Macaroni KID, a FREE community resource, with other families!
We very much appreciate your support.🥰