The final collaboration between Rodgers & Hammerstein, "The Sound of Music" was destined to
become the world's most-beloved musical. Featuring a trove of cherished songs, including "Climb Ev'ry
Mountain," "My Favorite Things," "Do Re Mi," "Sixteen Going on Seventeen," and the title number,
"The Sound of Music" won the hearts of audiences worldwide, earning five Tony Awards and five Oscars
for the feature film version. The inspirational story, based on the memoir of Maria Augusta Trapp,
follows a young nun in-training who serves as governess to the seven children of the imperious Captain
von Trapp, bringing music and joy to the household. But as the forces of Nazism take hold of Austria,
Maria and the entire Von Trapp family must make a moral decision.
City Springs Theatre Company, Atlanta's home for professional musical theatre,
kicks off its 2021-22 PNC Bank Season with "The Sound of Music," directed by Tony Award® winner
Shuler Hensley, in the Byers Theatre at The Sandy Springs Performing Arts Center.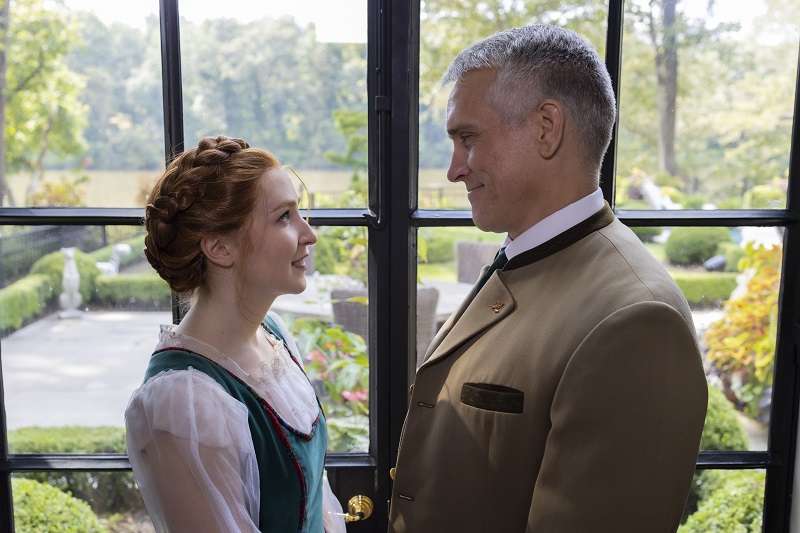 CAST:
"The Sound of Music" stars Mike McGowan as Captain Gorg von Trapp (Broadway: "The Book of
Mormon," "The Producers," "Ragtime"), Sumayya Ali as Mother Abbess (Broadway: "The Gershwins'
Porgy and Bess," "Ragtime"), John Scherer as Max Detweiler (Broadway: "By Jeeves," "Sunset
Boulevard"), Kristine Reese as Elsa Schraeder (Broadway: "Les Misérables"), and Ellie Fishman as Maria
Rainer (National Tours: "Miss Saigon," "Finding Neverland").
Featuring Callie Reagan Walker as Liesl von Trapp, Zach Landes as Rolf Gruber, Grant Martin as
Friedrich von Trapp, Ava Grace Roberts as Louisa von Trapp, Carson Shelton as Kurt von Trapp, Julia
Straley as Brigitta von Trapp, Kayla Furie as Marta von Trapp and Harper Allegra and Amaya Raidbard
as Gretl von Trapp.
Also in the cast are Cleve Bosher, Karen Howell, Janine Ayn, Reverie Berger, Christa Deana, Steve
Hudson, Trevor Martin, Amy Coelho, JoAnna Johnson, Yingling Zhu, Nicholas Anthony, Taylor-Kate
Bishop, Corey Bryant, James Arthur Douglas, Jaymyria Etienne and Daniel Fobes.
City Springs Theatre's production is directed by Tony Award® Winner Shuler Hensley and
choreographed by Cindy Mora Reiser, with music direction from Miles Plant. The creative team includes
Adam Koch (Scenic Designer) Mike Wood (Lighting Designer), Keith Bergeron (Sound Designer), and
Debbie Roberts (Costume Designer). Production stage managed by Randy Lawson.

PERFORMANCES:
September 16, 17, 18, 19 - Thur - Sat @ 8:00pm, Sat & Sun @ 2:00pm
TICKETS:
Tickets are $40-$100, with discounts for seniors, students, groups, and active and retired
military personnel. To purchase, call 404-477-4365 or click HERE.
LOCATION:
The Sandy Springs Performing Arts Center's Byers Theatre, 1 Galambos
Way, Sandy Springs.
COVID PROTACOLS:
City Springs Theatre Company will require all patrons to wear a mask while inside the Sandy Springs
Performing Arts Center. Adult patrons (18 & older) will need to provide proof of COVID-19 vaccination
or a negative COVID test. More information about the enhanced health and safety protocols can be
found by visiting www.CitySpringsTheatre.com.
About City Springs Theatre Company:
City Springs Theatre Company was formed by Sandy Springs residents and is dedicated to entertaining, educating, and enriching the community while contributing to its cultural and economic development by creating world-class theatre experiences at the new Sandy Springs Performing Arts Center. Through Broadway-style musical theatre featuring regional and national artists, creating a broad range of arts education programs for the enrichment of the community, and providing entertaining and inspiring productions for diverse audiences, City Springs Theatre Company establishes Sandy Springs as a growing cultural center. City Springs Theatre Company is a 501(c)(3) nonprofit
cultural organization.
This production is included in current subscriber season packages.
Visit www.CitySpringsTheatre.com or call 404-477-4365 for more information.
To subscribe, please click HERE