Everybody's Irish on St. Patrick's Day and kids are no exception... they love to celebrate!
Green Milk Secretly add a few drops of green food coloring to the milk in their glass or bowl of cereal. Tell them a leprechaun must have done it!
Green Toilet Water Add some green liquid food coloring to the water in the toilet. Oops, I guess the Leprechaun forgot to flush the toilet!
Make a Leprechaun Trap The kids love getting creative making a trap to try to catch the Leprechaun each year. Use items you have around the house - boxes, construction paper, popsicle sticks, pipe cleaners, and more! LEPRECHAUN TRAP
Make a St. Patrick's Day Craft like this HAND PRINT LEPRECHAUN
5. Eat Lucky Charms for breakfast. One of my kids' favorite St. Patrick's Day traditions is getting to eat Lucky Charms. It's the only time of the year that we buy it.
6. Get Crafty
Check out three simple St. Patrick's Day themed crafts you can make with your preschoolers!
7. Green Eggs If you didn't make green eggs for Dr. Seuss's birthday, you can always make them for St. Patrick's Day. Today is the day to add green food dye to anything you can!
8. Bake Green Muffins Make these SWEET SPINACH MUFFINS and your kids won't even realize they're eating something healthy!
9. Make a Rainbow of Smoothies The leprechaun's gold might remain elusive, but your kids will be thrilled to find a RAINBOW OF SMOOTHIES instead. They don't have to know how healthy they are!
10. Hide Gold Coins Around the House That silly leprechaun dropped gold wrapped chocolate coins all over the house! My kids love Rolos, but there are others available.
11. Have Sandwiches for Dinner Try this amazing TRIPLE DECKER CORNED BEEF SANDWICH for an easy holiday dinner everyone will love.
12. Make Green Cookies SHAMROCK MERINGUE COOKIES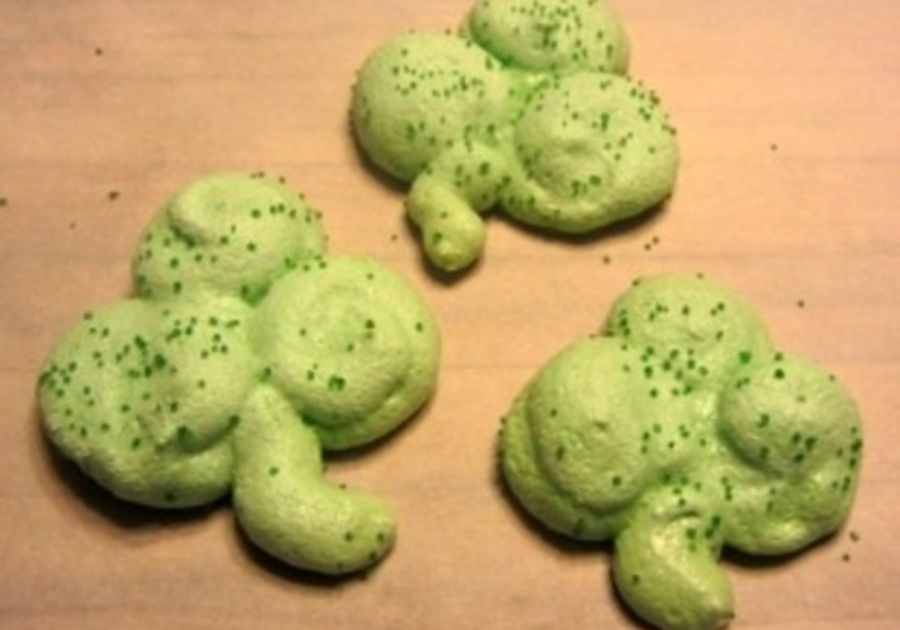 13. Add a Lunchbox Note (shaped like a 4 leaf clover or rainbow) in their lunch
14. Make Green Slime We have a recipe for GLITTERY GREEN SLIME.
15. Make a Rainbow Necklace The kids can string fruit loops onto some string. They can wear it and then nibble on it for a snack.
16. Have a Scavenger Hunt See who can find the most green things in the house!
17. Don't forget to wear green!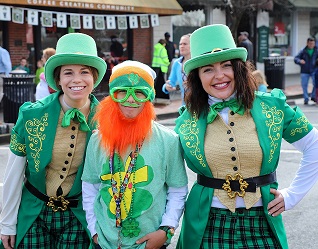 18. Learn the History of St. Patrick's Day Is it true that St Patrick chased all the snakes out of Ireland? Find out HERE.
ST. PATRICK'S DAY FUN FACTS:
The very first St. Patrick's Day Parade was not in Ireland ... it was in Boston in 1737.
The original color of St. Patrick's Day was blue, not green. It's a light shade of blue that is still evident on ancient Irish flags. Over time, though, green became the color that symbolized everything Irish. St. Patrick's Day celebrates the color green because:

The iconic shamrock used by St. Patrick is green
Ireland is known as the Emerald Isle for its lush green fields
Traditional Irish legend has it that you are invisible to leprechauns if you wear the color green, thereby protecting you from being pinched by one of these fairy creatures

The rivers in Chicago and Savanah are dyed green every year to celebrate.
The first three leaves of a regular clover symbolize hope, faith, and love. It is the fourth leaf that symbolizes luck.
It is estimated that there are 10,000 regular three-leaf clovers per "lucky" four-leaf clover.
According to the Guinness Book of World Records, the highest number of leaves ever found on a shamrock (clover) was 14.
Dublin is the capital of Ireland. There is also a Dublin, California and a Dublin, Ohio.
To stay in the KNOW - Sign up for our FREE weekly newsletter HERE!
Receive information about family-friendly events in/around Duluth, Norcross, Suwanee, Johns Creek, Peachtree Corners & beyond.
Have an event you'd like submitted to our calendar for consideration? Submit an event HERE.
Want to tell over 10,000 families in this area about your business?
Email beckys@macaronikid.com for advertising information.
Tell a friend about DNJC MK! More subscribers help us get more fun Giveaways from our sponsors for your family!
Don't forget to be social with us on Facebook, Twitter & Instagram.