Theodor Seuss Geisel, also known as Dr. Seuss, was born on March 2, 1904 in Springfield, Massachusetts. He was a children's book author, who wrote over 60 books, many of which, he also illustrated. Here are some little known .. or unknown facts about Theodor Seuss Geisel.
- Although, Mr. Geisel was married two times, he did not have any children and was quoted as saying "You have 'em, I'll entertain 'em". And entertain them he did with some of his most famous and best selling stories including Green Eggs and Ham, The Cat in the Hat, and One Fish Two Fish Red Fish Blue Fish.
- Many of Dr. Seuss' books, he wrote and illustrated. The ones that were illustrated by someone else, Geisel went by the pen name Theo LeSieg, which is Geisel spelled backwards. Examples of this include The Tooth Book, which was illustrated by Joe Mathieu.
- At the beginning of his career, Geisel was rejected by multiple publishers. His work was said to be "too outlandish to appeal to children". His first book And To Think That I Saw It On Mulberry Street was reportedly rejected by more than 20 publishers. Luckily, for the fans of Dr. Seuss, he didn't give up. And will he succeed, "Yes! You will, indeed! (98 and 3/4 percent guaranteed.) From "Oh, the Places You'll Go.
-It wasn't until later in his career, after LIFE magazine published an article suggesting that the reason children's reading levels were so low was due to children's books being boring, that his publisher asked Dr. Seuss to write an entertaining book for kids with no more than 250 words. The result is the children's classic The Cat in the Hat.
So, what is with the crazy hat worn by the Cat in the Hat? When Dr. Seuss suffered from writer's block, he would go into a closet in his home hidden behind a bookcase. In the closet were hundreds of crazy hats. He would sit in the closet wearing a hat (or two) until the words came to him.
His hobby of collecting hats was the inspiration for another one of his books. A few years ago, 60 of the hundreds of hats owned by Dr. Seuss were featured at an exhibit in New York for the 75th anniversary of... The 500 Hats of Bartholomew Cubbins.
-With the instant success of The Cat in the Hat, the same publisher dared Dr. Seuss to write a book with no more than 50 words. Can you guess which book was created? Green Eggs and Ham! On a dare, he wrote this book and it went on to become the #4 best-selling children's book of all time. Incidentally, this children's book is now one of the hottest sales tools used by marketing professionals (but that is a completely different topic)!

- The last book published before his death in 1991 was, Oh, the Places You'll Go, which is my favorite book to give to high school graduates.
- Of the many places you can go and remember Dr. Seuss are The Dr. Seuss Memorial in Springfield, Massachusetts, The Seuss Landing in Orlando, Florida, and online at Seussville.com.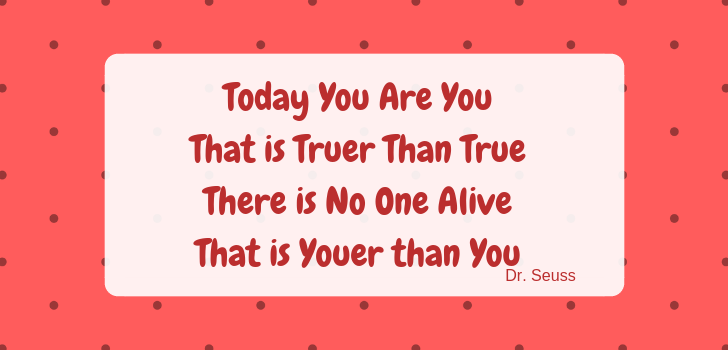 READ:
So to celebrate this special day, or national day I should say, read one (or several!) of his many "outlandish", but very creative stories! Here is a list of some of our favorites:
The Cat In The Hat
One Fish Two Fish Red Fish Blue Fish
Hand Hand Finger Thumb
Green Eggs and Ham
Oh The Places You'll Go
The Foot Book
Fox In Socks
The Lorax
How The Grinch Stole Christmas
MAKE:
Try making these cute hand print "fish" after reading his book: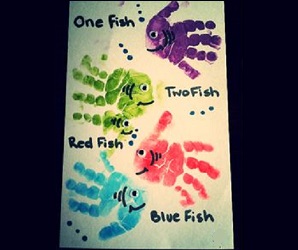 EAT!
What's a party without fun treats! Below are 3 of our favorites:
1. Green Eggs and Ham:
Prepare Deviled eggs as your favorite recipe calls for but add a few drops of green food coloring to the filling. Then fill your eggs with the green filling.

Ham Sandwiches:
Hawaiian Sweet Rolls
Brown Sugar Ham from the deli
Dijon Mustard
Swiss Cheese
Cut the rolls in half and spread mustard on one side, stack ham and cheese and put sandwich together then broil in the oven for just a few minutes until cheese melts and tops crisp up. Serve and along side the green eggs and enjoy.
2. Dr Seuss Muffin Tin Lunch: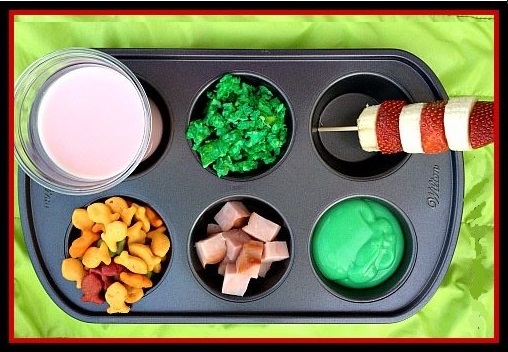 Hat – made using banana and strawberry slices on a skewer
Oobleck – pistachio pudding
Green Eggs and Ham –add green food coloring to scrambled eggs and dice some ham slices
Pink Ink – strawberry milk
One Fish, Two Fish, Red Fish, Blue Fish – colored goldfish crackers
3. Red Fish Dessert: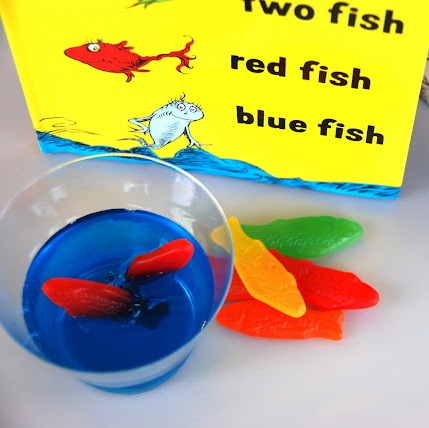 Just add Swedish fish to Jell-O Berry Blue Instant Gelatin Mix for these fun treats!
Visit our Dr Seuss Board on Pinterest for more fun ideas!
Like this article?
SIGN UP FOR DNJC MACARONI KID! To stay in the KNOW - Sign up for our FREE weekly newsletter HERE. Each week, you will receive fresh new ideas of family-friendly events in/around Duluth, Norcross, Suwanee, Johns Creek, Peachtree Corners & beyond!
Don't forget to be social with us on FACEBOOK * INSTAGRAM * TWITTER