March 11th celebrates one of the oddest and yet most beloved characters in U.S. history... Johnny Appleseed.
John Chapman was born on September 26, 1774, in Leominster, Massachusetts. He grew up with his sister Elizabeth and ten half-brothers/sisters. With a family of 13 living in a small house one can understand why Johnny might want more leg room. When he was 22, he took off to explore the west and seek adventure.
In 1797, Johnny first showed up in northwestern Pennsylvania planting apple seeds. He worked his way steadily into the frontier of West Virginia, Ohio, Indiana, Illinois and Iowa. Eventually, he became known as Johnny Appleseed as planted apple trees as far north as Michigan and Wisconsin.
Everywhere he went, he planted his seeds for free, along with his wisdom about nature, animals (he was a vegetarian) and God. Often shoeless but with a pot on his head for a hat, he traveled by foot or occasionally by horseback or canoe. Sometimes he would travel many miles to nurse an ailing orchard when word would reach him of its poor condition. Because of his well-known kindness, farmers and frontier folk always found a place at their table for him when he came visiting. Apple trees were desired for more than just their delicious fruit. They provided a method for perfecting a legal claim to a homestead and apples also made excellent hard cider.
Landmarks
Landmarks pepper the mid-west honoring the man that brought fruit to the frontier. Warren County, Pennsylvania, lays claim to Johnny Appleseed's first tree nursery. Mansfield, Ohio, honors the man with a monument in South Park. In rural Ashland County, Ohio, the last known tree planted by Johnny still struggles to survive, but half of it still manages to bloom every spring.
In his hometown of Springfield, Massachusetts, there is an entire park named after the man who made apple trees bloom across a young nation. You can even retrace some of his steps on the "Johnny Appleseed Trail" (which later becomes the "Mohawk Trail") starting at the tiny monument on Rt 2 in Leominster, Massachusetts and running along the northern border of the state.
Johnny died at age seventy years. A grave marks the spot where the legendary sower of apple seeds rests in Johnny Appleseed Park in Fort Wayne, Indiana
4 WAYS TO CELEBRATE #NationalJohnnyAppleseedDay
1. ENJOY AN APPLE! use #JohnnyAppleseedDay to post on social media.
2. MAKE AN APPLE TREAT! Cook some easy and delicious Apple Pie Roll Ups! In less than 30 minutes you can whip up these tasty little apple treats that are the perfect last-minute dessert.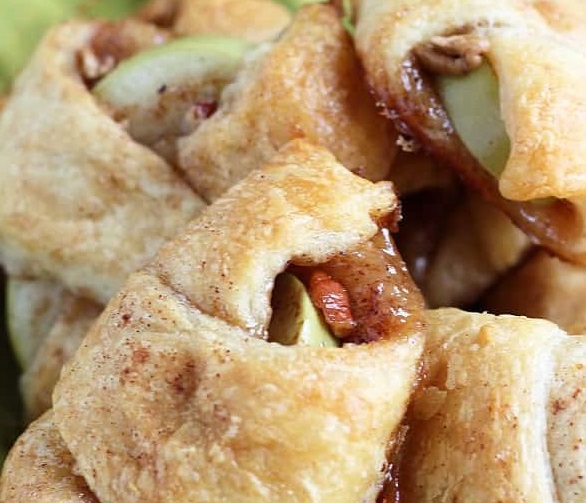 Ingredients:
1/4 cup packed light brown sugar
1 and 1/2 teaspoon apple pie spice
3 tablespoons unsalted butter, melted
1/3 cup finely chopped pecans (optional)
1 small Granny Smith apple, cored and sliced into matchstick pieces.
1 (8 ounce) tube Pillsbury Original crescent rolls
Directions:
Preheat oven to 375 degrees F
In a small bowl, combine brown sugar and apple pie spice. Set aside.
Melt butter and toss apple matchsticks in butter, set aside.
Arrange crescent roll triangles on baking sheet lined with parchment paper. Evenly distribute brown sugar mixture onto each triangle, then top with finely chopped pecans.
Place a bundle of apple matchsticks crosswise on the wide end of each triangle and roll the crescent dough around each bundle.
Brush each crescent roll with remaining butter and sprinkle with remaining apple pie spice/sugar mix.
Bake for 10 to 12 minutes, or until golden brown.
Cool for 5 minutes before serving. NOTE: My family LOVES these with vanilla ice cream on the side!
3. PLANT A TREE! Plant an apple tree in your own backyard and remember Johnny Appleseed each time you see it!
4. READ A BOOK! These are some of our favorite books about Johnny Appleseed:






Johnny Appleseed
(cute, simple biography that's
perfect for younger grades--
good fit for apple units)
Preschool - 1st grade









Johnny Appleseed
(biography focused on
character, paired with
folk art illustrations)
Preschool - 1st grade









Seed by Seed
(two kids go back in time,
meet Appleseed, and learn
about his legacy)
Preschool - 3rd grade



Please support local businesses! Johns Creek Books & Gifts on Medlock Bridge Rd has a great selection of books for all ages. They have many of these books. Just call them at 770-696-9999 and they can have your selection ready for you to pick up via their curbside pickup service. Or you can visit their online bookshop HERE and have it delivered to your home. Be sure to tell them that Macaroni Kid sent you!



To stay in the KNOW - Sign up for our FREE weekly newsletter HERE!
Receive information about family-friendly events in/around Duluth, Norcross, Suwanee, Johns Creek, Peachtree Corners & beyond.
Have an event you'd like submitted to our calendar for consideration? Submit an event HERE.
Want to tell over 10,000 families in this area about your business?
Email beckys@macaronikid.com for advertising information.
Tell a friend about DNJC MK! More subscribers help us get more fun Giveaways from our sponsors for your family!
Don't forget to be social with us on Facebook, Twitter & Instagram.