Feb. 2 is Groundhog Day... one of the weirdest American holidays of all. It's the day when thousands of people gather before dawn on a frigid February morning to see if the groundhog will predict an early spring or more winter.
On Groundhog Day most people think of Pennsylvania's Punxsutawney Phil, but here in the south, we have a different weatherman, Gen. Beauregard Lee, Georgia's very own weather prognosticating groundhog! The first General Lee, "in service" for ten years, is now retired and Beauregard is his bachelor nephew has inherited his wealth and brilliant prognosticating skills.
For 37 years, Gen. Beau, as his friend's call him, lived at the Yellow River Game Ranch near Lilburn until it closed in 2017. He has been recognized for his public service to Americans by four Georgia Governors; and has twice been commended for the accuracy of his predictions by The National Weather Service. He has received honorary doctorates from The University of Georgia – "DWP, Doctor of Weather Prognostication" and Georgia State University – "Doctor of Southern Groundology."

Beau appeared on "The Today Show" with Willard Scott during The Democratic Convention in 1988. He answers his own mail (no form letters) with a complimentary V.I.G. (Very Important Groundhog) Photo on a year-round basis. In 2004, Beau was featured on Animal Planet on Feb. 2nd.
He has quite an impressive record with a 94% accuracy rate. However, he has also had some notable misses. In 1993, he predicted an early spring just before Georgia was hit with the "Storm of the Century", a blizzard that crippled the Southeast for over a week! And in 2014, just 10 days after he again predicted an early spring, we suffered another major ice storm.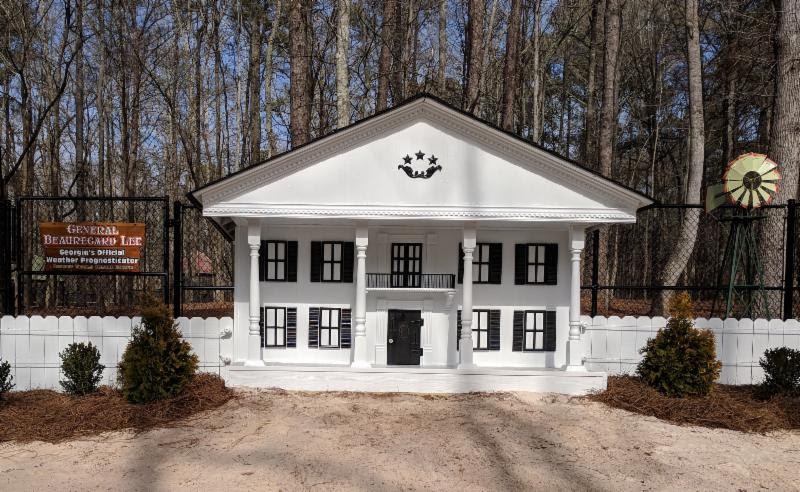 Three years ago he moved into his white-columned southern mansion, "Weathering Heights," at Dauset Trails Nature Center just south of Atlanta in Jackson. It is alleged that Beau's Official Mansion includes an architectural water fountain; a postal box; a granite monument; a monogrammed lawn marker, sundial, doormat and a satellite dish that allows him to watch PBS nature specials. He has further enjoyed a broad jump and high diving board which readied him for The Olympics. He also has a laptop computer for his prodigious correspondence and a Wine Cellar to recover from the labors of His National Holiday.
At 7:30 AM on Sunday, Feb 2, you can attend the FREE Groundhog Day ceremony. If he sees his shadow, it's six more weeks of winter weather. If he doesn't? Good weather is right around the corner. Souvenir shirts will be available for cash or check only.
Dauset Trails provides outdoor educational experiences showcasing Georgia's native wildlife, flora, early farm life, hiking and mountain bike riding trails, and horse riding trails on 1,400 beautiful, scenic acres with FREE admission and parking.
But who says only groundhogs can predict an early spring? Balzac Billy, the "Prairie Prognosticator" of Balzac, near Calgary, is a gopher! Then there's Oxford, Michigan's Tutor the Llama, who inherited his job of forecasting from another llama, Zac, who received the job from his best friend Noah!
There are several other groundhogs around the country just waiting for their moment in the spotlight on February 2nd. But whether you take the word of a groundhog, a gopher, a llama, or some other weather-predicting animal, I'm hoping that all of them predict an early spring!